ROFA ULV Handheld Insecticide Applicator
For controlling insects in livestock areas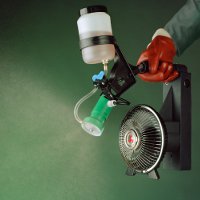 The ULV rotating nozzle creates microscopically small droplets that hover in the air for several minutes and only fall extremely slowly. The insects flying around automatically leads to a successful treatment that can hardly be achieved with other spraying processes. The range of droplet size is defined so that they are demonstrably not respirable (approx. 35 micron).
Flies, cockroaches and mosquitoes are a major nuisance in livestock areas because they are carriers of disease and bring unrest to the stall. They stress cattle, chickens and pigs, which can lead to decreased production.
With ROFA pests can be controlled effectively and efficiently.
Less use of insecticide
For a 5000 square foot stall only 60 – 90 ml (2-3 oz.) of preparation are necessary.
From 1 ml of preparation, the high rotating speed of 12,000 rpm creates 45 million droplets, which are evenly distributed in the room. Thus the consumption is considerably reduced as compared to conventional processes.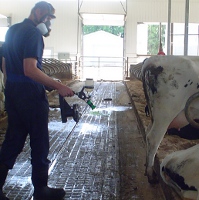 Less time
For 5000 square feet only 5 – 7 min are needed!
Through the rapid rotation and the downstream ventilator the medium is evenly distributed up to 7 meters (23 feet) wide. Simply walk down the center aisle and spray first on one side and then on the other. Set-up time is largely eliminated because the preparation is used undiluted.
Easy to handle
The ROFA is easy to operate: Fill in the preparation, switch on the equipment, set the shutoff valve to blue for flying insects, and go. In addition ROFA only weighs 2.4 kg (5.3 pounds) plus the small amount of undiluted preparation.
Versatile applicability
This new device technology was successfully tested together with environmentally friendly, biodegradable preparations in long-term practical experimenting by the Federal Health Office in Berlin. For example, natural pyrethrum extract was used against cockroaches in foods and tested against flying insects in stables. The active ingredient distinguishes itself through an immediate, especially high killing rate along with the most frugal consumption.